Craft Beer and Brewing Highlights Head Brewer Craig Rowan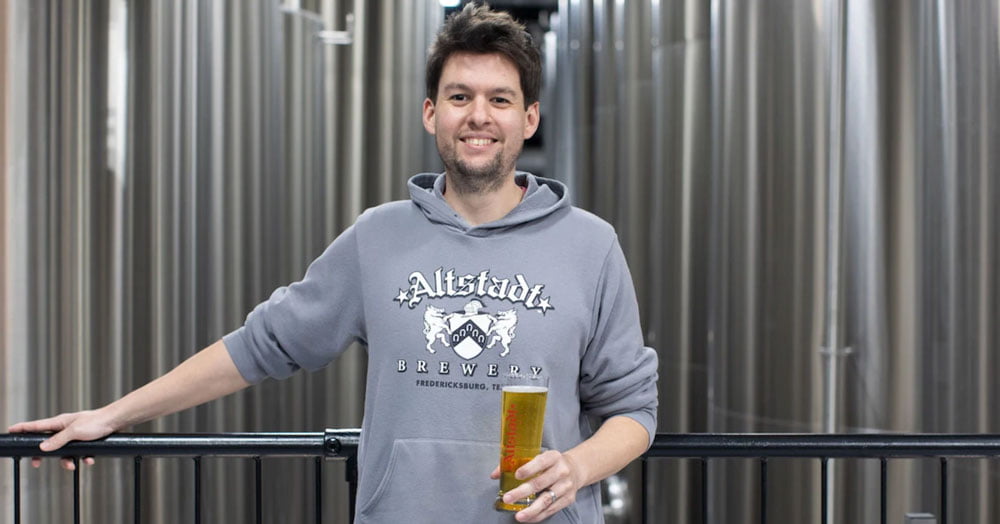 From Podcast Episode 178: Altstadt Brewery's Craig Rowan Can Taste the Hard Work in His Beer
The head brewer for German-inspired Altstadt explains the process of dialing in their lagers on one of the most exquisitely built-out small breweries in North America.
Altstadt Brewery is a remarkable creation—a gleaming brewery, taproom, restaurant, and event space designed in the form of a European-style chateau, plopped down in the German-American community of Fredericksburg, Texas, amidst wineries and farms. No expense was spared, and it's quite possibly the most costly build-out of a 12,000-barrel-per-year brewery in the recent history of brewing.
It could be written off as a vanity project for a wealthy father and son if the beer didn't hold its own. But in 2019, under the leadership of head brewer Craig Rowan, the brewery took two gold medals at the Great American Beer Festival (for helles and Kölsch) and put Texas lager contemporaries on notice that they meant business. Rowan's career began at Louisiana's Abita Brewery, where he started in packaging and (over a decade) worked his way up to the brew deck and into the pilot brewery before leaving for the opportunity at Altstadt. But Rowan's focus on precision made him well suited to take the reins of the brewery in 2018 when the previous brewmaster departed.
In this episode, he walks through the steps they took in honing the earlier iterations of their core beers—a process of testing and improvement that ultimately yielded serious rewards. For Rowan, the goal was riding that line of approachability and character, keeping the beers on the lower side of accepted ABV ranges, but ensuring that they remained convincing. From malt selection and mash technique to yeast and fermentation process to water treatment and finishing, he outlines the small things that they tweaked. While they don't have the ability to employ some of the more difficult and time-consuming lager-brewing processes, they do sweat the details, and it shows in the beer.
"I'm a big believer in the work you put into a product shows to a customer," says Rowan. "So if you're decocting your beer, and you're doing it well—you've studied how to do it, and you really understand why you're doing it and what you're doing it for–that's going to show up in the final product. Working hard for something is always going to make it a better product."