Altstadt Brewery was recently highlight in Packaging work Magazine, an article by Pat Reynolds. The article highlights our new canning and bottling line up-grades.
---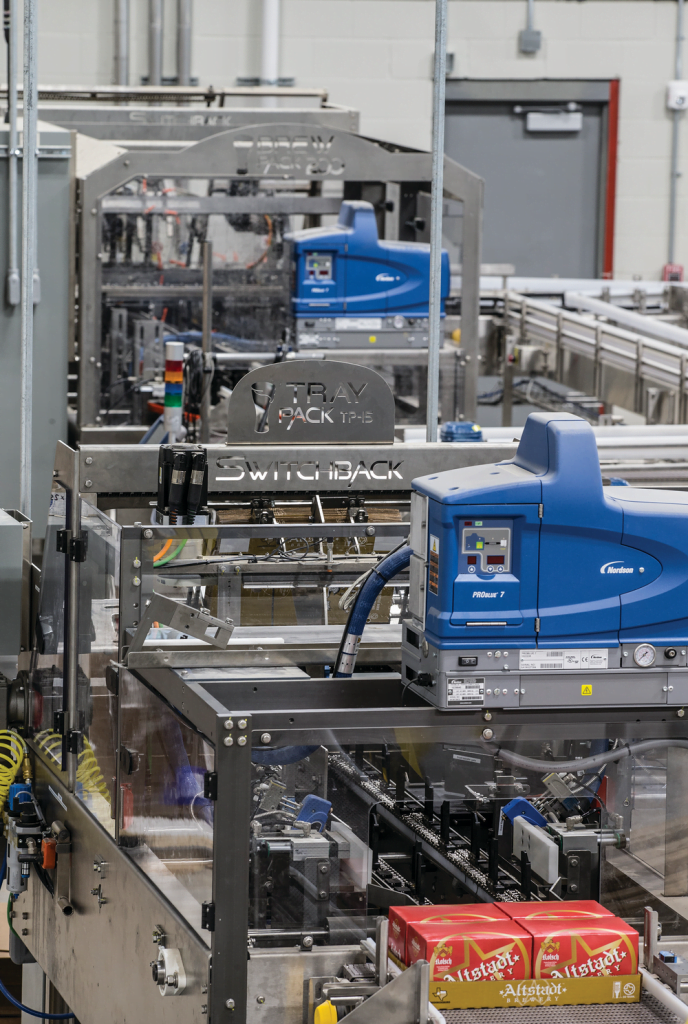 Texas Brewer Upgrades Bottling and Adds Cans
Installation of a canning line became a top priority as Altstadt Brewery opened new markets in Houston and Dallas. Also getting some serious upgrades was an existing bottling line.
In the historic German settlement town of Fredericksburg, amid the rolling hill country of Texas, sits Altstadt Brewery, a three-story German Tudor brewery, restaurant, and entertainment center that occupies some 58,000 sq ft.
Co-founded by William Scripps Jr., Altstadt produces German style beers that are guided by the German beer purity laws of 1516 and are brewed using only four ingredients: hops, barley, yeast, and artesian spring water.
When the brewery opened in 2018, its only packaging format was glass bottles. But when the HEB supermarket chain suggested that sales of Altstadt's beer in its stores would triple if cans were available, plans for a can line were boosted from the back burner to "let's do it right now." In charge of making it happen was Brien Harper, Senior Consultant at J.S. Held LLC. Altstadt management brought on J.S. Held to assist in building and operationalizing the ambitious expansion.
"A can line was always in the plans," says Harper. "It just happened about two and a half years sooner than Alstadt originally anticipated." He notes that in addition to the increased production capacity needed to meet HEB's requirements, there were also plans to open up new markets for cans in Dallas and Houston. That's why Altstadt, unlike other craft breweries that might opt for modest canning capabilities at first just to get their feet wet with a new packaging format, invested in a canning line capable of 245 cans/min.
To make things even more interesting, it wasn't just the canning line that got fast-tracked. Also implemented at about the same time were some serious automation upgrades to the bottling line.
But let's begin with a look at the canning line. Predictably enough, it begins with a depalletizer. Supplied by Uni-Pak, it handles both cans and bottles, so the brewery runs one container format or the other but never both formats at once. A short distance downstream from the depalletizer is a fork in the conveyor connection—down one fork go the bottles and down the other go the cans.
All cans are undecorated bright stock. Full-body shrink-sleeve labels supplied by Resource Label are applied by an Aurora labeler from Axon. The mandrel-style machine uses servo motion control from Rockwell to deliver consistent, repeatable performance. A fiber optic sensor reads film registration marks so the PLC can calculate cut lengths to assure sleeve length accuracy. The labeler also features industry-standard PackML programming and HMI interfaces to deliver consistent terminology, consistent screen displays, and standardized program structures, thus delivering ease of operation and maintenance.
The labels are immediately shrunk tight in an Axon steam tunnel. From there the cans pass through an air ionizer that pre-sanitizes the insides before the cans reach an ionized air rinser and a Domino ink-jet coder that prints the bottom of each can with lot and date code information.
To read the full article click here: https://www.packworld.com/machinery/article/21124596/texas-brewer-upgrades-bottling-and-adds-cans